What can the world's biggest design fair tell us about the future of bathrooms? We visited the Eurobagno halls at Milan Furniture Fair this month to find out. Here's what we discovered:
Some of the biggest bathroom brands in the world turn out for the Milan Furniture Fair, which puts on a Eurobagno special every second year. We joined the stampede of style-buffs and design aficionados to see first-hand what the future of bathroom design has in store for us.
Fresh out of Europe, here are three key developments that can be applied to your own bathroom space almost instantly:
1. Bathroom living meets lounge
It used to be that the bathroom was seen as the wet area of the home. All the finishes and surfaces as well as the furniture really focused on being water-resistant and wipe-down. However, this year at Eurobagno, we saw bathroom brands throw that old way of thinking out the door. They're softening up the bathroom space, furnishing it with soft luxurious pieces – from beautiful stools that appear made by hand, to chairs upholstered in rich, tactile materials like leather and velvet. In this trend, bathroom vanities and basins start to look and feel like living room furniture, such as the stunning freestanding basins at the Kartell by Laufen stand, or breaking out of the mould to mimic side-tables and informal desking.
2. Mastering the metallic madness
When it comes to contemporary bathroom design, beauty is always in the finer details. At this year's Eurobagno we saw designers adopt a much more sophisticated approach to metallics in the bathroom, using the glimmering warmth of brasses, bronzes and gold to subtly highlight shower enclosures, vanities, tapware and more. Or, to hero a particular area of the bathroom, such as Alape's alluring Dark Iron basins. These metallic finishes were often teamed with honest, natural materials of timber and stone or marble. And sometimes even other metallics – we particularly loved Scavolini's take on this. But as you'll notice, even when it is 'metallic-on-metallic', it is done in the most refined manner. It takes good taste and an eye for detail to appreciate this subtle yet classy look!
3. Tapware enters a new era of design expression
Updating the tapware in your bathroom is one of the simplest and easiest ways to achieve a much-needed bathroom refresh. And from what we saw at Eurobagno this year, you are going to have plenty to work with! Tapware has entered a new and exciting era of design expression. Distinguished designers have teamed up with the top bathroom brands to explore new and fascinating tapware forms which function in the most intuitive and surprising of manners. From robotic shapes that appear to unfold, to generously rounded curves and steel-look tapware from GROHE's Essence collection – you can find a tap to bring your unique bathroom vision to life.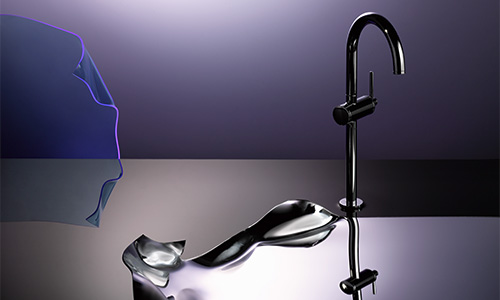 Get creative with your bathroom vision. We have all the products and tools for you to translate the latest European trends into your bathroom space.